GNOME has been one of the best desktop environments that provides a graphical user interface for the Linux operating system. It delivers a powerful user experience that is similar to Windows and macOS. But there are a few things that you can do to your gnome desktop to make it more functional. This is where Gnome Extensions comes into the picture.
An Extension is a piece of software that helps in customizing or tweaking gnome desktop to the next level. These extensions will help you to install themes, and icons, add fancy app transitions, blur the shell & lot more. All these extensions are free and are very easy to install. That being said, Lets check out the top 10 Must Install best gnome extensions for Ubuntu 22.04.
Note: You can also use these extensions on any GNOME-based distro like Fedora, Manjaro, Zorin, Pop OS & More
OpenWeather is a great extension that helps you keep track of all-weather information at your location or any other location of your choice. It looks quite attractive, this is a must-install extension that shows live weather information.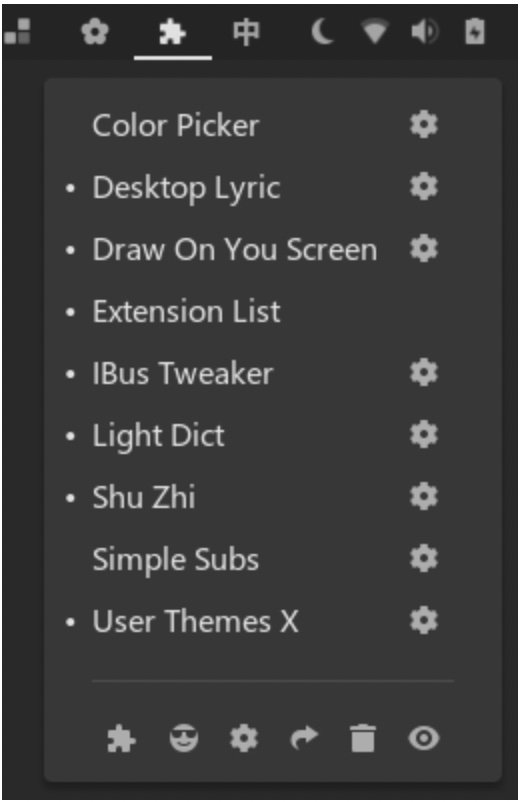 Extensions List itself is an extension that shows a list of all installed extensions. Instead of using the extensions app, you can use this shortcut added to the panel and glance through all gnome extensions. Right from panel, you can enable or disable the functionality of an extension. You can also customize the individual extension by jumping into settings.
Gnome-shell uses blur in very few parts of the UI. If you recall, the background wallpaper on the lock screen has blurred out and looks pretty good. Apart from the lock screen, you may find a blur effect nowhere throughout the system. For instance, the background texture of the activities overview shows a simple grey color image which looks awful. Installing blur my shell will extend a blur effect to the dock, panels, activities overview, and more.
The CPU Power manager is a very useful Extension, especially while working on a laptop. This extension gives you control over how your computer resources are going to be used at any given time. This will improve the overall performance of the system. At present, this extension is only for computers having Intel CPUs on board. Using this extension, you can throttle the CPU speeds by changing the profiles. For example, if you need a full performance select the performance for high-intensive tasks. If you are working with an app that doesn't require any power, then switch to other profiles that will fix battery draining issues.
If you have installed themes inside your gnome desktop, then use a user themes extension, to load shell themes from the user directory. This will load the themes from the hidden directory named themes present inside the home folder. To change themes, you must have installed the gnome-tweaks tool. Inside gnome-tweaks, choose the appearance, select shell, and see all the installed themes. This way you can change the themes hassle-free.
Everyone knows that Apple has a fantastic feature called continuity. Using this feature both iPhone and mac can work together via iCloud. For example, When you get a call on your iPhone, you can answer it from the mac. Thanks to the GSConnect which brings a similar experience between Linux and Android smartphones. Go ahead and grab the GSConnect extension on your Linux computer. Then on an android device, head over to the play store and search and install an app called KDE-Connect.
Once it's done, open the app, look for hostname of the computer. If you don't see any computer, make sure both Linux and Android are connected to the same wifi. When both devices are connected, you can permit your android device that enables the functionalities like transferring the files between them, seeing notifications, battery info, replying to messages, and much more. You can also control the Linux computer from an android device. For example, you can use the remote input feature to mimic the mouse actions.
Vitals Adds system information to your panel, that shows the real-time usage of system resources which include CPU, ram, and more.

In combination with vitals, installing a net speed simplified gives a rough idea about the network traffic. It shows the upload & download speeds in real-time. Along with that, you can also track the amount of data usage of the network session.
Burn my windows shows an effect on an app when it's opened or closed. There are a few effects that may surprise everyone.
Removable disk menu is a fantastic extension, that shows the information about the storage devices connected to the computer. Using this, you can quickly glance through the media drives. With one click you can browse the files and tap on the eject button to safely unmount the USB drive.
Hot Corners Extended
If you have used a plasma-desktop, then you already know about hot corners. Hot corners extended brings hot corners feature to gnome-desktop. This way hovering a mouse cursor on one corner puts me back on the desktop, the other corner puts the displays to sleep, another corner shows applications, and finally, the last corner runs a custom script or application. You can customize what you want for every corner.
Bonus
When you are running an important task that needs to be monitored, then use caffeine which prevents your system from sleeping. When you add the Caffeine extension, you will see a mug icon on the top panel. An empty mug means that defaults will be applicable, i.e. go to sleep; but when the mug is full, the system will not go into screen saver or sleep mode.
That's pretty much it, these are the top 10 best gnome extensions that you must try on GNOME Desktop. What do you guys think about it? Let me know in the comments section down below.
Watch YouTube Video